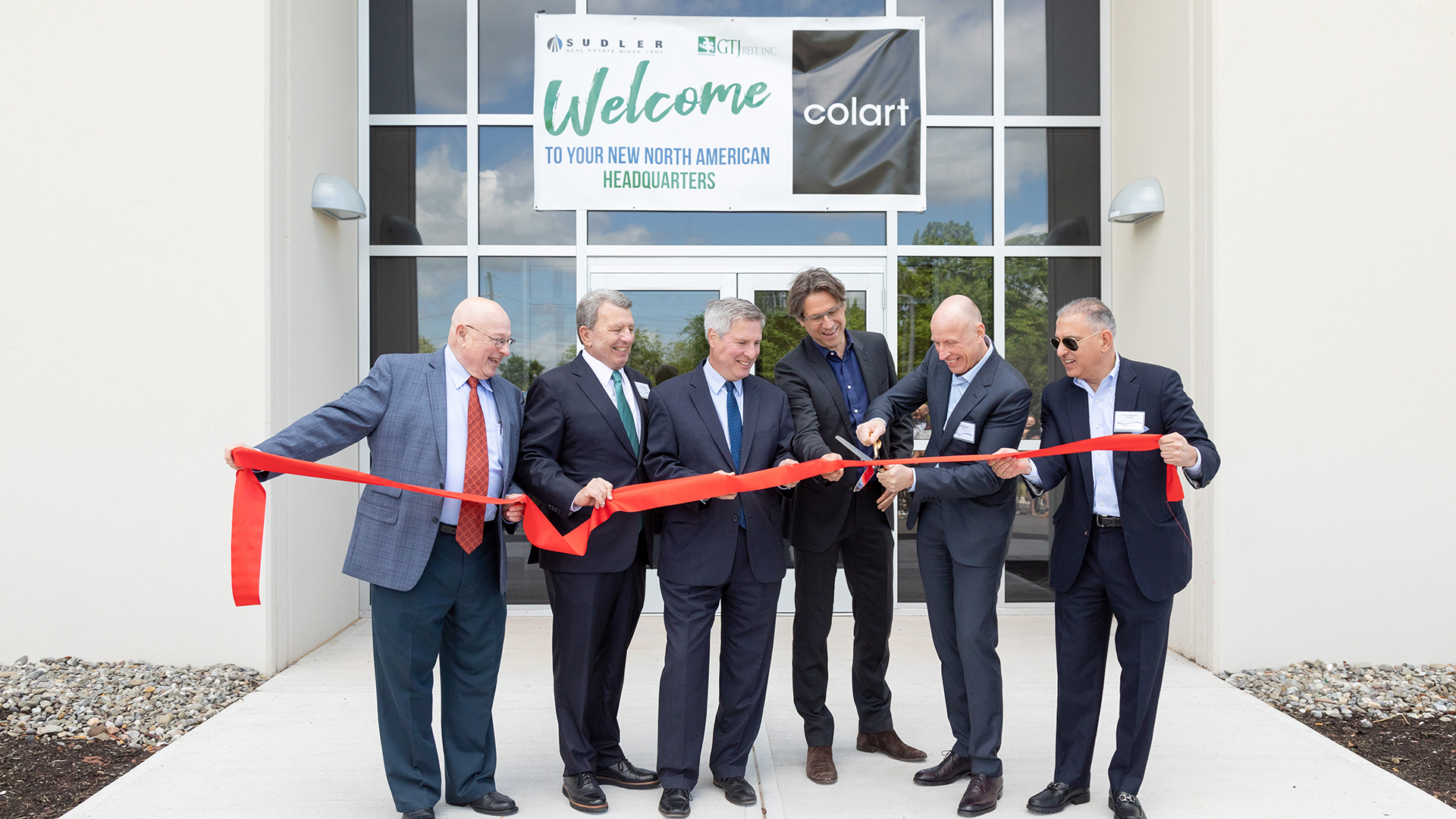 An international art supplier has opened its new 150,000-square-foot headquarters and distribution center in Piscataway, where a joint venture has redeveloped the former site of a defunct office building.
A joint venture of Sudler Cos. and GTJ REIT recently completed construction and interior design at the new ground-up property, which sits at 2 Corporate Place off Interstate 287. The property will serve as both an industrial facility and the North American headquarters for Colart, a corporate tenant in Piscataway since the early 1980s.
Part of a Sweden-based conglomerate, Colart previously occupied nearby 11 Constitution Ave., which Sudler owned until GTJ acquired the property in 2016. Last year, Sudler began to raze an outdated 132,000-square-foot office building at 2 Corporate Place to make way for the larger, more modern facility that the art supplier needed.
"All at Colart are extremely excited to invest in keeping our North American headquarters in Piscataway, New Jersey," said Dennis van Schie, CEO for Colart. "This new facility provides a better working environment for all our employees in the distribution center and offices and allows us to better support both the future growth plans and our customers and consumers across North America."
Colart's art history goes back to the 1400s and counts Picasso, Andy Warhol and David Hockney among its many famous clients, according to a news release. On Wednesday, the company opened its new home during a ceremony that also drew state Sen. Bob Smith and Piscataway Mayor Brian Wahler.
"We're glad to be serving Colart again and appreciate GTJ REIT as a great partner in facilitating this transaction," said Peter Sudler, CEO and president of Chatham-based Sudler. "While interest in office space has waned over the past decade, this area along the 287 Corridor has gained popularity for warehouse facilities."
Sudler's Corporate Park 287, which retains Colart as a tenant, features 2.5 million square feet of office, data center and warehouse space on 200 acres off I-287. The complex offers quick access to the New Jersey Turnpike and Garden State Parkway and is within 50 miles of New York City.